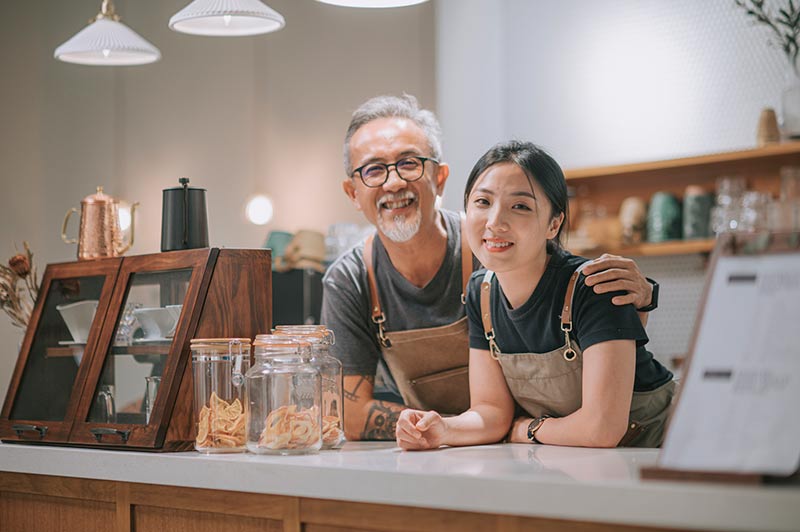 For Americans looking to retire, the No. 1 biggest consideration is usually money. In order to quit the full-time workforce for good, you will need to establish another source of income in order to cover the cost of living and any other extras — like traveling, sports or new hobbies — you may want to enjoy during this highly anticipated phase of your life.
To figure out what kind of retirement income you'll need (and how much) it's also important to get a handle on your expenses. Low-income apartments at a senior housing facility or a retirement center can offer consistency and peace of mind when calculating your monthly budget.
When it comes to retirement income, there are two big umbrellas. There's passive income or money you've saved and invested that accumulates in the background, and active income, or money that comes from continuing to work — whatever that looks like for you.
Some typical forms of passive income for retirees include:
Social security

You've probably been paying into the social security system for your entire working life, so now is the time to reap the benefits. The amount you receive from your monthly check depends on how much you've paid into the system over the years. AARP estimates that the average American in 2022 receives $1,657.
Pension plans from your former employer

In a pension plan, contributions are made by the employer (and sometimes the employee as well) on behalf of a worker over the course of their employment. The employer also promises to provide a certain monthly income to retired employees for life. Pension plans allow an employee to receive the full amount as a lump sum — also called vesting — after a set number of years, typically five to seven years after retirement.
401ks

Though also coordinated through a workplace, 401ks differ from pension plans in that they're usually funded by the employee via pre-tax paycheck deductions. Many employers will offer matching contributions to a 401k up to a certain level. Gains from a 401k investment account are tax-free, though the employee shoulders the risk of their own investment portfolio potentially performing poorly.
IRAs 

IRAs are extremely useful saving and investing tools, especially for people who don't have employers that offer pension or 401k programs. A person with an IRA (short for Individual Retirement Arrangement) contributes money that can be invested in a wide array of different assets. There are two main types — traditional IRA and Roth IRA — with their own distinct advantages. Under a traditional IRA, you may be eligible for a tax deduction when you make a contribution, but you're liable to taxes on the amount you later withdraw. In a Roth IRA, you pay taxes on the money when you deposit it into the account, but none when you withdraw.
Rental properties

Depending on the nature of your property, managing a rental home may require more hands-on work than the other types of passive income on this list. But if you can afford to retain an investment property when transitioning to retirement life — potentially by moving into a retirement home or senior apartments — it can prove extremely lucrative in today's rental market. To cut down on the time commitment of being a landlord, you can also consider hiring a property management company, which typically collects a fee between 6 and 12 percent of the monthly rent.
Some retirees, however, might find it useful to continue working in some capacity, for their wallets as well as their own social, physical, and mental acuity. And with unemployment rates so low, you may find a friendly market for part-time employees looking to set their own schedules.
Opportunities abound for seniors looking to continue working in their chosen fields, as well as retirees hoping to launch the second act of their careers. Some of the best jobs for retirees include:
College instructor

Serving as a teacher at your local college gives you the chance to pass on your knowledge in a given field to the next generation. Depending on your course load, the position is often scalable, granting you the opportunity to take on as many or as few hours as you like. And according to the Bureau of Labor Statistics, there's likely to be a 12 percent increase in postsecondary teacher positions by 2030.
Public servant

Want to give back to your community while making a bit of income? Most city councils, municipal commissions, and school boards offer a modest salary to their members. It's risky — you may or may not be elected after running an expensive campaign — but civic-minded retirees can make a positive impact on their communities while being compensated for their time.
Real estate agent

Becoming a real estate broker or sales agent means that you're helping clients buy, sell and rent properties, usually while working for yourself. And it comes with job security — according to U.S. News and World Report, around 32,600 new property and real estate positions are expected to be created over the next decade, making real estate a booming field.
Consultant

Not ready to let go of all the hard-earned expertise you collected over the course of your career? Consulting in your former field lets you put that knowledge to use while retaining flexibility and control over your schedule, rates, and assignments.
No matter your goals for retirement, the right low-income apartments can help you reach them while helping solve the puzzle of your budget. To learn more about senior living at Knights of Pythias, call our retirement community at (360) 696-4375.
Contact Knights of Pythias Active Retirement Center and Retirement Home today!