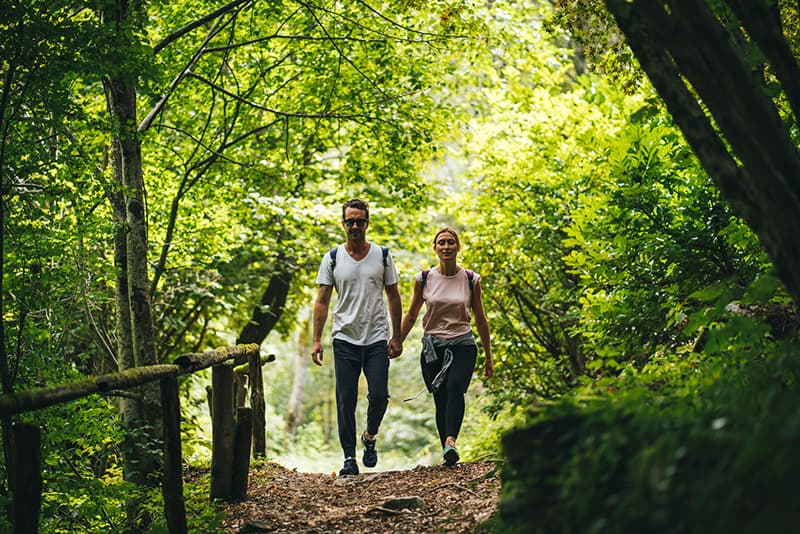 Looking for hiking trails close to home in Vancouver, Wa, and Portland, OR? We have listed a few in this blog that we think you will enjoy.
Hiking is a great way to explore the great outdoors. It's also a wonderful exercise. You can hike on your own or with a group. There are many different trails to choose from in the Vancouver and Portland areas. You can find trails for all levels of hikers, from beginner to expert.
One of the best things about hiking is that you can go at your own pace. If you're a beginner, you can take your time and enjoy the scenery. If you're an expert hiker, you can challenge yourself by hiking faster like trail running.
Another great thing about hiking is that it's free! You don't need any special equipment or gear for small hikes, just a good pair of shoes and some water. You can find information about hiking trails online or in books or magazines.
Hiking is a great way to get outside and enjoy nature.
Hikes in Vancouver
Salmon Creek Trail
This hike is a 5.9-mile loop with an elevation gain of 154ft and is a rather easy hike. This hike is friendly to everyone, kids, strollers, and wheelchairs, this trail is also dog friendly and road biker friendly. It takes on an average of 1.55 hours to complete.
Moulton Falls Reginal Park
This is a beautiful picturesque hike that is available for all ages. There are many trails that start in this area from easy to difficult. Make sure you bring your camera to take some lovely photos of the falls and the bridge for wonderful memories.
Pack a lunch for an easy hike or pack a backpack for a long day hike. You can hook up to multiple trails for longer more difficult hikes in this one area. From .4 miles to well over 15 miles. Each trail has its own elevation gains for both novice and more experienced hikers.
Burnt Bridge Creek Trail
This trail distance is 8 miles.  This is an easy trail that is basically pretty flat. This trial is hard-surfaced that offers walking, biking, jogging, and viewing of the Burnt Bridge Creek Greenway. This trail passes through grasslands and heavily wooded areas. Burnt Bridge Creek Trail is a beautiful tail to hike in the fall when all the leaves are changing into bright colors.
Hikes in Portland
Mount Tabor Blue Loop Trail – Portland Oregon
This hike is a distance of two miles. The elevation gain is basically flat. The Difficulty is easy.
Mount Tabor is a dormant volcano in Portland. The high elevation of this spot has wonderful viewpoints at the summit. Take a picnic lunch to enjoy this hike with family members or friends. You'll love exploring this short hike and the views of Portland.
There are many routes you can take on this mountain that is in the center of a 198-acre city park. You can walk, hike, bike, trail run and walk your dog here.
Powell Butte Loop Trail – Portland Oregon
The hike distance is a 4.5-mile to 6.2-mile loop with an elevation gain of 600 ft. which is an easier hike. It takes on an average of 2 hours and 45 min to complete.
On a clear day, you can enjoy the majestic views of Mount Hood and Mount St. Helens from Powell Butte.
Powell Butte is open year-round. Dogs are welcome on the trail but they must be on a leash.
This is a popular trail for hiking, mountain biking, and trail running.
Wildwood Trail – Portland Oregon
The hiking distance of this hike is totally up to you it stretches for 30 miles. Hike it all or in part as you wish. This trail is one of the longest forested urban trails in America. You see all types of plants, trees, and birds throughout this hike that takes you in and out of the city. The elevation gain of the trail is around 3,113 feet. This trail is highly recommended by hikers and for training for back-country hiking.
You'll actually feel like you are not in the city at all on this hike even though you are. If you don't feel like taking this hike all at once you can break it up into parts on different days. You might even want to park an extra car at different points of this trail so you don't have to hike back the way you came in. There are several trailheads on this hike to start and finish on.
The Wildwood trail starts near the Portland Zoo in Washington Park to the Wildwood Newberry Rd Trailhead.
Hiking is a great way to explore new areas and get some good exercise at the same time. It's also a great way to spend time with friends or family. If you're looking for a fun, active way to spend your free time, consider hiking locally!
The affordable prices and flexibility provided by low-income apartments like those at Knights of Pythias can help you make the most of senior living. To find out more about our retirement community and to fully explore our senior housing options, call us at (360) 696-4375, send us an email at lori@koprc.com or visit us in person at 3409 Main St, Vancouver, WA, 98663.
Contact Knights of Pythias Active Retirement Center and Retirement Home today!