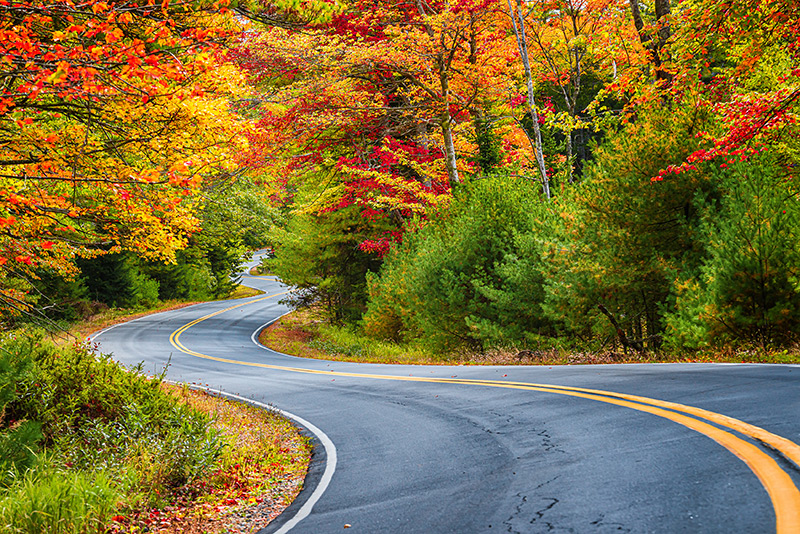 If you're looking for a scenic drive to take in the fall in Washington and Oregon, you'll be sure to love these routes. From the rolling hills of the Columbia River Gorge to the stunningly lit forests of Oregon's Willamette Valley, there's something beautiful to see on every drive. Whether you're looking for a quick escape or an all-day adventure, these routes will have you spending hours enjoying the sights and smells of fall. 
The fall season is a time for reflection and getting outdoors. If you're wondering when the peak color will occur between it's usually sometime beginning around October 4 and ending around October 25.
Soak Up the Fall Colors on These Scenic Drives!
Washington Scenic Drives
The Whidbey Island Scenic Byway
The Whidbey Island Scenic Byway meanders from the old city of Clinton to the Deception Pass. You will see as well as mountain and water scenery among old-growth Douglas-fir and largeleaf maple trees. The trip commences in Seattle, involves a 20-minute ferry ride from Mukilteo to Clinton, and loops via I-5 through Mount Vernon. Either you begin your journey in Clinton or Mount Vernon.
As you drive along the island, on Whidbey Island, you may notice that the timing of the island is different from the conventional time they call it "Island Time." You can find small art and boutique galleries, seashell shops, coffee shops, wineries, and microbreweries. Appreciate the beautiful scenery or watch the whales from the shore. The oceanfront air, the natural beauty, and people seeking to rejuvenate themselves provide a unique experience that you will take away.
NE Lucia Falls Rd. Drive Near Vancouver, WA
The NE Lucia Falls Road is a scenic waterfall and river route you'll not want to miss. You'll view some of the best fall trees changing into vibrant rustic colors. You'll need to park your car here and walk to some of the most beautiful fall scenery there is. Not only do the leaves have fantastic colors the East Lewis River water is just as colorful. 
Make sure you check out these waterfall areas Lucia Falls, Moulton Falls, and Yacolt Falls for some fantastic fall views. Make sure you have your camera with you charged and ready to shoot lots of photos. 
Bring Your Bike and Mountain Bike the Moulton Falls and Mount Bell Loop
You can also experience the beauty of Moulton Falls by biking the Moulton Falls and Mount Bell Loop. This trail is much longer and a bit more challenging to undertake than the East Fork Lewis River Loop. While it can be hiked, mountain biking is a much more popular way to conquer this loop.
The trail is mostly gravel or paved, and it winds through a variety of landscapes before looping back to Moulton Falls. You can expect some inclines, beautiful scenery, and even a few peeks of Mount Saint Helens!
Oregon Scenic Drives
Columbia River Gorge National Scenic Area
The Historic Columbia River Highway is a drive-making anytime. The Columbia River Gorge National Scenic Area features a totally amazing river canyon. The Columbian River Gorge is the only sea-level route that cuts through the Cascade Mountain Range.
Columbia River Scenic Highway – This highway drive is often referred to as the Columbian Gorge Waterfall Corridor. You will have the chance to see several waterfalls glowing in full fall colors as they splash into the lower pools of water. This drive is a photographer's dream that has so many wonderful scenic views to shoot. It's one of the most photographed areas for traveling tourists and photographers. 
​​
Mount Hood Scenic Byway Drive
Mount Hood is Oregon's highest mountain peak at 11,245 ft. Mt Hood is the 4 highest peak in the Cascade Mountain Range. It is a dormant stratovolcano that last erupted in the 1780s.
You can start your journey at two different points on this beautiful fall drive. You can start your scenic drive at Hood River or at interstate 84 and Hwy 30 near Gresham.
Driving through the Hood River Valley you will view lovely lavender fields, farm stands, and wine tasting rooms present the Mount Hood Valley area's burgeoning vineyard scene, along with an impressive array of apple, cherry, and flower farms.
In conclusion, take a drive through the stunning fall colors in Washington and Oregon. The views will leave you breathless, and the memories will last a lifetime. So pack up the car and hit the open road—you won't regret it!
The affordable prices and flexibility provided by low-income apartments like those at Knights of Pythias can help you make the most of senior living. To find out more about our retirement community and to fully explore our senior housing options, call us at (360) 696-4375, send us an email at lori@koprc.com or visit us in person at 3409 Main St, Vancouver, WA, 98663
Contact Knights of Pythias Active Retirement Center and Retirement Home today!