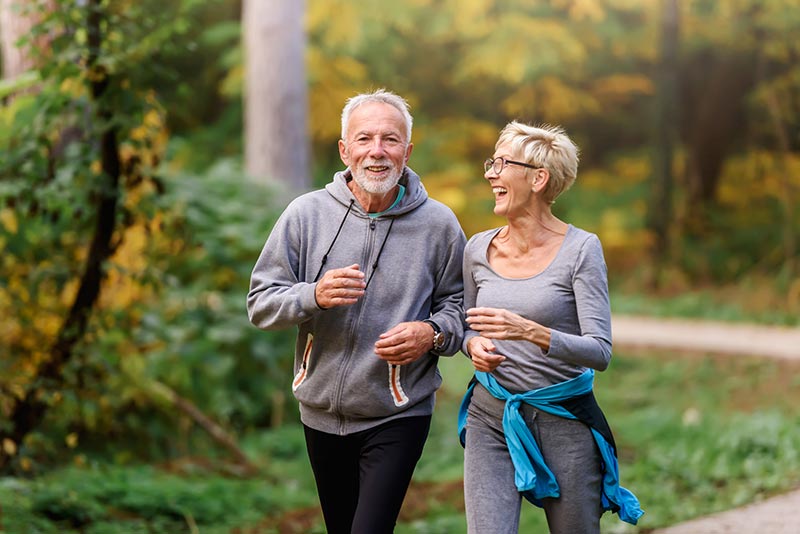 Retirement is the culmination of a lifetime of careful financial planning. But many of us get so caught up in whether or not we can afford to retire, we lose sight of what our retirement will actually look like. It should be a time of joy: a chance for you to spend your time on the things that truly matter to you while prioritizing your health and happiness. Getting the most out of senior living requires thinking critically about how you want to spend these years of your life. Craft an action plan to make those dreams a reality.
1. Figure out what retirement means to you
If you're retiring with a partner, sit down and talk with them about what you both want out of your retirement. Does retirement mean time to travel? Time to rest at a retirement home? Time to chase a passion project, or to spend more time with grandchildren? For many people, the answer is some combination of all of the above. But it's important to make sure you know what retirement means to you, and that you and your spouse or partner are on the same page emotionally and financially.
2. Find ways to stay fit, mentally and physically
During retirement, you'll have fewer demands on your time, and it's easy to slip into boredom or inactivity when there's nothing on the calendar. It's important to deliberately seek out ways to keep your mind and your body active to ensure you're getting the most possible fulfillment out of this phase of life.
There are a multitude of resources aimed at helping seniors stay fit. If you live in a retirement community, staff can help connect you with exercise classes or a course that can help you pick up a new skill. Many also offer transport to and from those activities. In Vancouver, the Parks and Recreation department has a whole host of activities designed specifically for people over 50 years old. To keep your mind sharp and stay engaged in the community, you can also check out The Messenger, a Clark County publication that covers issues directly relevant to seniors.
3. Volunteer for a cause you care about
During retirement, you're rich in the most precious resource of all: time. Make the best use of your time by donating it to a cause or organization you care deeply about.
The possibilities are endless and now is your chance to dig deep and devote your energy toward missions that matter. Vancouver and the Portland Metro area are home to a host of worthy causes, offering opportunities to do everything from work with animals at the Humane Society of Southwest Washington to cleaning up trash along the Columbia River. Veterans groups, food banks, homelessness resources, medical clinics — any of them would appreciate your help.
4. Get (and keep) your finances in order
If you're in a financial position to retire, you've likely worked hard to ensure you can enjoy long, happy years on a fixed income. But it's important to check in on the state of your finances and investments to make sure that your income is keeping up with your expenses and the cost of living. Ensuring you stay on top of your financial status can also set you free, guaranteeing peace of mind when you splurge on the things you truly value. For many, low-income apartments make up a key piece of the financial puzzle. You can also look for senior housing options designed for retirees on a fixed income — all of the studio senior apartments at Knights of Pythias are subsidized, as well as 15 of the community's 580-square-foot one-bedroom units.
5. Join a community of retirees
For some, ceasing employment means that you lose the structure and community of a traditional workplace. In the absence of that support, it can be useful to build out your social circle and surround yourself with fellow retirees enjoying the same phase of life. A senior housing facility guarantees that you'll have plenty in common with your neighbors. Make dinner plans, set a shopping trip, join a friend for a walk — whatever you do, it's beneficial to have a date on the calendar to look forward to.
6. Connect with your loved ones
 Take full advantage of this period by spending quality time with your family and other loved ones. If you choose, you can carve out time in your retirement schedule to babysit your grandchildren, or plan trips to reconnect with loved ones who may have moved far away.
7. Keep in touch with your doctor
Many retirement centers work actively to ensure that you can stay in close contact with your medical providers, providing transport and scheduling support. At this phase of your life, it's critical to stay on top of preventative care and other treatment. Your primary care physician, dentist, and other specialists will work together to keep your body healthy and thriving for years to come.
Are you seeking an opening at a retirement center in the Vancouver, WA area? Learn how Knights of Pythias Active Retirement Center can help by calling
360-696-4375 or visiting https://koprc.com/.
Contact Knights of Pythias Active Retirement Center and Retirement Home today!