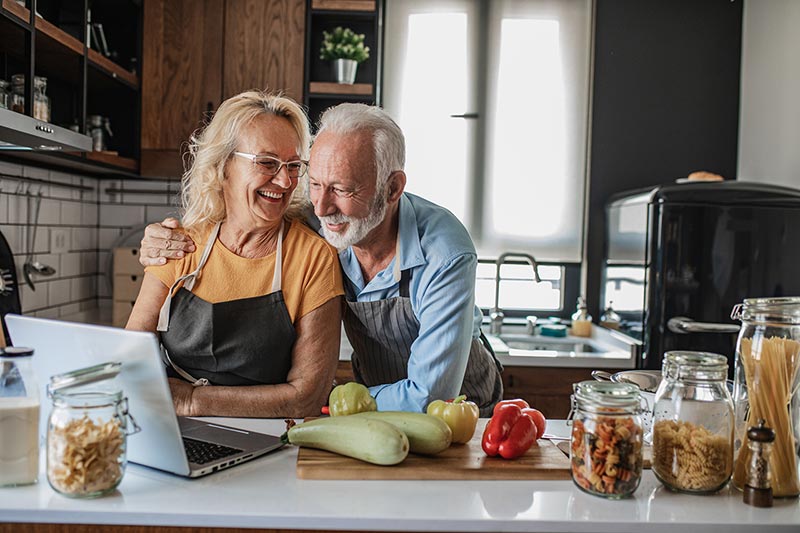 Over this last year, consumers have spent well over $850 billion dollars online with U.S. retailers. For the last two years, top retailers have seen almost a 50% increase each year in online sales.
Seniors are embracing e-commerce as a useful tool for helping them find the right products they are looking for without having to leave home. Online ordering enables them access to goods and services from the comfort of home, and in the days of the pandemic also helps them avoid exposure to the Covid virus.
Saving money on supplies and groceries is always a top priority for seniors. Online ordering, makes it much more convent for seniors to shop around for the best prices. Listed below are a few tips for seniors when ordering items online.
1. Research Companies Before You Buy
With just a small amount of time searching the internet you can find a variety of websites that carry the same products at varying prices. It's easier to shop for less expensive items now more than ever. Online research of retailers empowers seniors to be more informed in the decisions they make on what to buy.  For those that enjoy in-store shopping, online research beforehand can still be a plus for you in knowing which store has the best deals. You can also check to see if the store you're heading to has the products available that you're wanting to purchase. This save type of research saves you both time and money.
2. Online Shopping Helps You Stay Healthy
With covid happening all over the world, online shopping can help seniors stay healthy and well. Online stores and pharmacies alike allow seniors the services of ordering online with home deliveries or store pickups. With most pharmacies now you can set up your medication refills to automatically reorder before you run out. Automatic reorder and refills of your medications help you make sure they are not missed or forgotten.
3. Make Sure The Website You're Ordering From Is Secure.
One way to see if a website is secure is to look to the left of the URL on the top of the web browser. If you will see a locked-looking padlock this lets you know the site you are looking at is secure. If you see an unlocked padlock that means the website is not secure. You should exit a nonsecure and move on to a more secure website to purchase products from. You can also tell if the website you are browsing is secure if it has HTTPS at the beginning of the URL. If the website you are on has an HTTP at the beginning of a URL you' are on a non-secure website.
4. Make Your Online Purchases With a Credit Card.
When you use a credit card for online purchases it is the most secure option for buying online. If your account should happen to be compromised you can dispute the transaction with your bank and have the charges reversed. The same is possible if you are using a debit card for online purchases. Several people use only one credit card for all of their online purchases so they can easily view each transaction made. Some online buyers also use one card with a lower limit for online fraud purposes. They usually make a payment within that same month so there are no added interest fees to their credit card. Monitoring your online accounts and credit reports is a good practice to get used to. By tracking your accounts you can make sure all the purchases you make are the only things showing up on your account.
5. Beware of Deals That Are Too Good To Be True
We've all seen ads on Facebook, Instagram, and other parts of the web for crazy low prices and those that offer free things. Remember this says that stays true, "if it sounds too good to be true, it is too good to be true."
6. Keep Your Passwords Protected and Save
The best practice when choosing a password for your store and online accounts is to make sure they are personal and only you know it. Make sure the password is very random by using phrases, numbers, and special characters. Once a person has access to your account by using your password they can easily access your person and confidential information.
Contact Knights of Pythias Active Retirement Center and Retirement Home today!