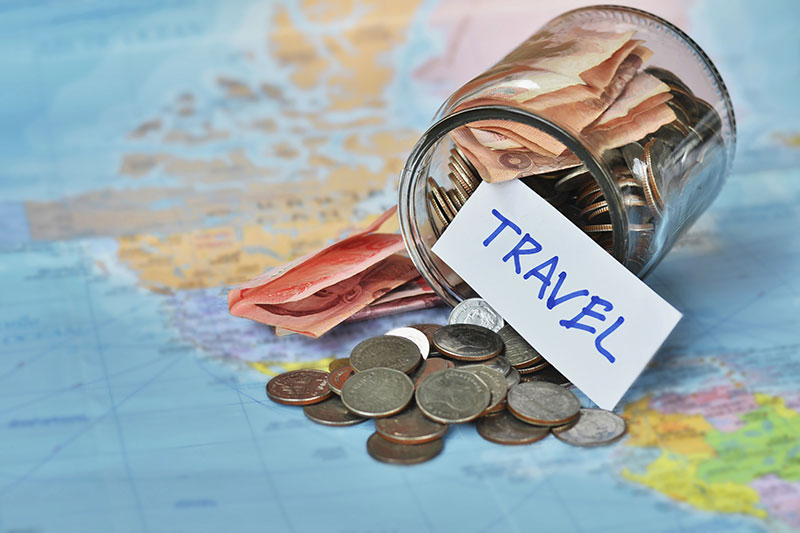 Planning out your next vacation is a fun activity – you get to imagine the look and feel of a new place, explore the activities the region has to offer, and map out all the delectable food you will devour along the way. But the next step, the one after the imagination stage, is the harder part: saving for the trip. Here are some tips to make sure you're financially prepared for your next vacation to happen, so you fly off leaving any money woes behind. 
Pay down your debt
Before you even begin to plan for your next trip, the first thing you should do is make a plan to pay down your debt. While it's less fun than looking up flights to a tropical destination, freeing yourself up from the interest you're paying on a credit card or loan could translate to a vacation in itself. Plus, you'll have a much more enjoyable time away knowing you're more financially stable.  
Use a credit card with airline miles
It's almost too easy to earn a free trip these days, especially if you do a little bit of research on credit cards and their point systems. Some credit companies award points based on certain types of spending, and many are designed with travel-related rewards in mind. This is a passive way to save for your next trip because it doesn't require you to adjust your spending habits at all — especially if you choose a credit card with a system that works well with your current spending habits. Earning travel credit for spending money you were already planning on spending is a no-brainer. 
Follow money-saving tips
Some of the common tips you'll hear when trying to save money is to spend less at the coffee shop. This is one common tip, but there are other places in your everyday spending habits that you can cut corners to save money for travel. You can eat out less and cook food at home more often. Another tip is to take a look at your subscriptions and see which you're not using or can live without. For example, if you're signed up for a gym membership, consider cutting this cost and instead opting for free options such as online classes. Once you take a hard look at your spending, you may find that your current spending habits don't reflect your priorities. All you have to do moving forward is to readjust your spending habits to better put money towards your next vacation. 
Make travel part of your budget
Another way to save for travel is to build it into your budget. One way to do this is to set up an automatic transfer so that each month money is sent to a separate account designated as your vacation fund. Because you never think about it leaving your pocket, you're forced to budget your other expenses and spending habits around it. By automating this, you're building each trip into your finances and forcing yourself to save for traveling without having to think about it. 
Consider income opportunities
Depending on your lifestyle, one way to save money for travel is to look for opportunities to increase your income. Some of these can even be passive income, like renting out a spare bedroom in your house. Consider what you're already doing that might make you a little extra money each month. For example, if you're an avid knitter, consider selling hand-knit scarves. 
Saving money for travel is the least fun part to trip planning, but it's a necessary one. However, just because it's not as relaxing as sitting on a beach doesn't mean that saving up can't be enjoyable. There are a wide range of options for saving for travel, so no matter which route you choose, you'll likely find that it's all worth it once your toes are in the sand.
Are you looking for availability at Knights of Pythias Active Retirement Center in Vancouver, WA? Give us a call at 360-696-4375.
Contact Knights of Pythias Active Retirement Center and Retirement Home today!