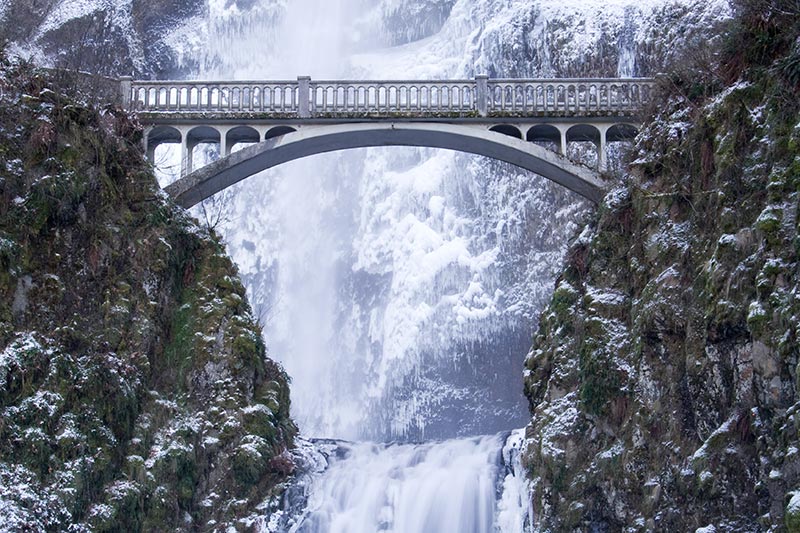 Not only do Washington and Oregon have the best fall drives they also have the most scenic winter drives with some of the most wonderful views. Winters in Washington and Oregon are much calmer than in many states but they can be unpredictable and dangerous if you do not use caution. Please be safe when traveling in the winter and carry extra water, food, blankets, and warm clothing.
Driving down Highway 101 from Washington to Oregon in the wintertime on the coast is a wonderful time to watch storm waves roll in and crash into the rugged shoreline. A few times in the winter months king waves roll into the coastal shores. These waves happen during the highest tides of the year. This can be such a beautiful sight to see. These large waves crash into the rocks sending explosions of water several feet into the air. Photographers and onlookers alike get to see views not seen by many.
Washington
Olympic National Park
Parts of Olympic National Park are covered in snow almost all winter. The lower areas and along the coast is better for winter driving. Driving along the coast in the winter has amazing views on both cloudy and sunny days. You'll see some of the most amazing sunsets on the coast during the winter if you hit the timing of your drive just right.
Yakima River Canyon Scenic Byway
The drive through the Yakima River Canyon is a drive not many think about. If you like rolling hills and mountains along the river this drive is for you. There are also several hiking trails you can take to give you a higher view of the canyon.
Cedar Creek Grist Mill
The drive to Cedar Creek Grist Mill that sits in Cedar Creek is a great place to shop and take some amazing photos now matter what time of year. Winter is one of the favorites of photographers, especially on a frosty or snowy day. It's a few that will take you back in time to well over a hundred years ago.
Cascade Loop By Way
The cascade Loop Byway takes you across serval scenic byways that are grouped together. The main scenic byways are Whidbey Scenic Isle Way, North Cascades Highway, and Stevens pass Greenway. Driving these scenic roads along Washington will take you to places were there is an adventure waiting around every turn.
You'll drive through waterfront cities to alpine villages, past lakes, to pine forests, to an island in the sound. You'll love every minute of this long drive and all its amazing places to stop along the way. Don't forget to bring your camera and have your cell phone charged up. You'll see so many gorgeous places that you'll be snapping off a ton of photos on this drive.
Oregon
Columbia River Gorge Highway
Taking a fall and winter drive through the Columbia River Gorge is an unforgettable journey. You'll pass several waterfalls along the way, Make sure you stop by Multnomah Falls, it is one of Oregon's most famous falls that is photographed by thousands. Not everyone gets a shot of the ice formations the water creates in the wintertime. It's one of those falls you could stop and visit several times without ever getting tired of it.
Roque Umpqua Scenic Byway
This scenic drive along the Umpqua River has stunning views of snowy evergreens and several waterfalls. You drive by Diamond Lake and Crater lake on this drive. The north route to crater lake is closed in the winter but you usually drive to the south entrance which is open year-round.
Mount Hood
Driving into Mount Hood in the wintertime is like driving into a snowy winter wonderland. Mount Hood is Oregon's tallest mountain reaching up into the blue sky at 11,237 ft. On the Mount Hood Scenic Byway, you can visit both the Timberline Lodge and Mount Meadows Ski resorts. Both ski resorts are wonderful winter playgrounds to ski and snowboard.
Pacific Coast Scenic Byway
This amazing drive takes you along one of the most legendary roads in the Pacific Northwest and the US, Highway 101. You can travel Hwy 101 all the way down the Oregon Coast stopping at scenic views along the road as well as beautiful hiking trails. You'll view some of the most beautiful ocean scenes and sunsets in America.
Three Capes Scenic Loop
This is a route that branches off from Highway 101 heading closer to the coast. On this scenic loop, you get to view the lovely coastal capes of Cape Lookout, Cape Kiwanda, and Cape Mears.
These are just a few of the many scenic views ad drives you won't want to miss in Oregon and Washington. Most of these drives can be taken in a round trip day from the Portland and Vancouver metro areas. You may want to spend the night along the way to take in a few extra beautiful views
Mount Rainier National Park
Multnomah Falls
Crater Lake National Park
Olympic National Park 
Columbia River Gorge
Yakima Valley
Snoqualmie Falls
Smith Rock State Park
Mount Hood
Mount Adams
Mount Saint Helens
Oregon Dunes National Recreation Area
Willamette Valley
Pacific Crest Trail
Take your time, drive safe, and make sure you make plenty of stops along the way to take in all the winter views you can.
Contact Knights of Pythias Active Retirement Center and Retirement Home today!