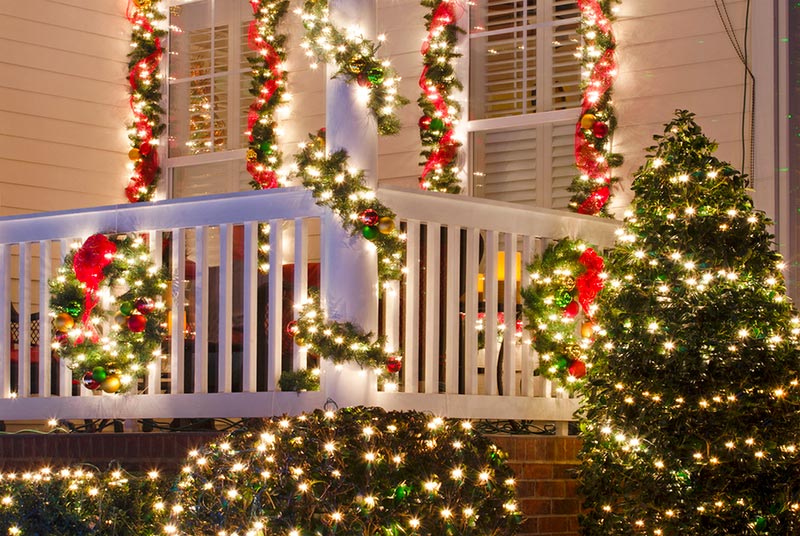 ​
There are plenty of fun places and activities to experience this holiday season while supporting local businesses. Take part in new and long-celebrated traditions with the whole family, including your loved ones from our retirement home.
Since the COVID-19 pandemic is still present, some local events are canceled for the second year in a row. But some events that were canceled last year are back! So please make sure to wear masks and distance socially.
Read on to find out what sights, crafts,  shops, shows, (and more) your family can experience in the Vancouver area this season.
Holiday Sights to See
In the heart of downtown Vancouver, the Christmas Tree in Esther Short Park is a bright centerpiece amongst the area's restaurants, venues, shops, and other businesses.
In one of Portland's most famous landmarks, there is Critters Make Merry at Pittock Mansion. Local decorators transform the mansion into a holiday wonderland of animals — from polar bears, reindeer, to mice.
For vintage Christmas lovers, the World Famous Kenton Club in Portland hosts Sugar Town Illuminated: Holiday Light Display. Every evening, they play vintage, pre-80s music to dance to while marveling at an elaborate holiday light display.
Celebrations and Crafts
Let's take a look at more ways to celebrate with these events!
Come join in on this great celebration in downtown Camas, Hometown Holidays. They offer family-fun photos with Santa, holiday shows, shopping from local vendors, and art displays. And don't forget to grab some free hot cocoa!
Pomeroy Living History Farm in Yacolt hosts Wreath Classes where you can craft unique wreaths while enjoying a glass of wassail. Their upfront costs cover all supplies! Farmington Gardens in Beaverton also has its own wreath-making class, Holiday Wreath Workshops.
Where else can you take the family to do some local holiday shopping? Read on!
Shop at These Local Businesses
Find some fantastic gifts to buy for you and your loved ones while supporting these local businesses — it's a win-win!
In the same place that hosts Wreath Classes, Pomeroy Living History Farm sells Christmas Tea To-Go. As a fundraiser, they offer a tea lunch which includes scones, sandwiches, and desserts. Just order your tea online, pick it up, and enjoy it with the family!
The monthly Night Market Vancouver at The VIC is hosting a special Holiday Market to get the whole town in the holiday spirit. It has shops from over 70 local makers, live music, food and drinks, and dance lessons.
In the same location that hosts Spirit of Halloweentown every year, the town of St. Helens, OR is hosting their second annual Holiday Gift Shop Bazaar. Enjoy carolers and a visit from Santa while browsing creations, food, and drinks from local vendors.
After you've done your shopping with the family, sit back and enjoy some shows.
Shows to Watch
You can start at Kiggins Theatre in downtown Vancouver where they show holiday classics all season long, including "It's a Wonderful Life".
The Winningstad Theatre in Portland has created a new, home-brewed musical, "A Carol for Christmas". Based on Dickens', "A Christmas Carol," this show has a different spin on its traditional theme of the Christmas spirit with its new, original songs. And in classic form at the Broadway Rose Theatre Company in Tigard has A Christmas Carol: The Musical.
One of the area's most beloved concerts, Portland's Singing Christmas Tree, is shown at Sunset Presbyterian Church. Known for its 300 voice choir, this show also includes dancers and a cinematic nativity scene.
Enjoy this Holiday Season with the Whole Family
The Vancouver area offers plenty of holiday activities for your whole family with sightseeing, shopping, and shows, and more. Remember to respect covid protocols: wear masks and social distance, please.
Happy Holidays from every one of us at Knights of Pythias Active Retirement Center.
Are you seeking an opening at a retirement center in Vancouver, WA? Give us a call at 360-696-4375 or visit https://koprc.com/ to learn how Knights of Pythias Active Retirement Center can help.
Contact Knights of Pythias Active Retirement Center and Retirement Home today!