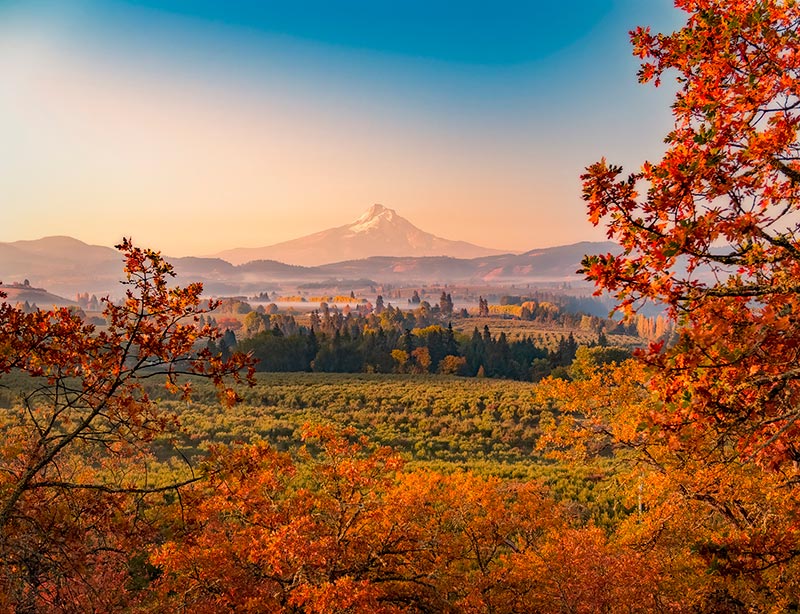 Oregon and Washington have some of the most stunning fall foliage color views in the US. We have compiled a list of a few of the best road trips for you to drive this fall. There is no shorting of views to see the fall colors during the late days of October and early days of November. 
Washington
Hunting for colors crimson, yellow, orange, red and light shades of green is not a problem at all in Washington. Here are a few drives you might want to take. 
Mount Baker Scenic Highway
Artists and those that like art love not only the name but also views of Artist Point. The rugged Cascade range is a beautiful sight all year long but especially in the fall when the ranges explode in vibrant colors. If you're a camper bring it along and camp along the highway's dispersed camping areas. 
Stevens Pass
Driving on Stevens Pass you pass by forests, lakes, and lovely mountain scenes. You'll have the chance to explore not only the forest areas but also the towns, pullouts, overlooks, and some of the best colorful views.  
Whidbey Island Scenic Byway
This is a favorite drive for locals. There's so much to do and see on this island getaway from the city. You can whale watch, visit wineries, microbreweries, coffee shops, and boutiques. You drive by beaches, farms, restaurants, and seaside bed and breakfasts where you can spend the night to extend your stay. 
Cascade Loop
Oh the colors you'll see as you drive the cascade loop. Plan your trip accordingly, this route may be closed in the winter months. 
White Pass Scenic Byway
This highway takes you through the Gifford Pinchot National Forest and the Wenatchee National Forest. On this drive, you'll be able to view the beautiful foliage on the slopes of Mount Rainier, Mount St. Helens, and Mount Adams. Take time on the drive to hike or fish in the forests, lakes, and rivers on this route. Watch for elk, deer, and wildlife as you drive the alpine areas of the mountain forest areas. Don't forget to bring your camera along. 
Oregon
Mount Hood Scenic Byway
The Mount Hood Scenic Byway has some of the most colorful fall foliage in all of Oregon. When driving the Mount Hood National Forest road up to Timberline Lodge you view several colorful hues of red, orange, yellow, and all that's green. This drive is a favorite for locals living in Portland and Vancouver as well as visitors that are new to the area. 
You'll need to pass by Mt. Hood Winery where you can sit, sip on some wine and enjoy an amazing view of Mount Hood. The view is so great that they even use the view you'll see on their wine labels.
You see some amazing farmland, forests, lakes, rivers, streams, and a few waterfalls on this drive. 
Historic Columbian River Highway
The Historic Columbian River Highway winds through some of the most beautiful hills and mountains you'll see of the Columbia River Gorge. The colors especially during a sunrise or sunset are heavenly. You can chase waterfalls to your heart's content on this drive. There are over 90 waterfalls on the Oregon side alone. It will take you weeks and months to hike to them all. A few of these waterfalls will test your hiking abilities. Don't worry if your legs are not up to it there are plenty of waterfalls for you to view within a few steps from the highway. 
The Umpqua River Scenic Byway
Near Eugene to the Oregon coast is a lovely scenic drive through rural areas, forests, lakes, and rivers all lined with color. While on this drive you'll also pass restaurants and vineyards with wineries to relax and enjoy the day with family and friends. You can also enjoy many recreational areas to fish, swim, bike, and hike. 
The types of trees you find in the Oregon and Washington areas are the douglas fir, aspen, vine maple, big leaf maple, red maple, pacific dogwood, red oak, haywood ash, red adler, western larch, aspen, cottonwood, and pin oak are among the main trees you'll view in the area.
Contact Knights of Pythias Active Retirement Center and Retirement Home today!